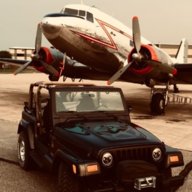 Joined

May 19, 2019
Messages

5
Location
Hello, I'm in need of some help with my 01' TJ.
I've had an engine light for my Cat converters about 6 months now but was told by the auto parts guys it was nothing to worry about... well lately I've been having issues and I'm thinking I should have worried.

On cold starts it starts and runs T totally fine, but anything after that I'd i shut it off and restart it then it runs rough and shakes some. Had it worst today and the check engine light flashed at me a few seconds before the engin smoothed it self out and the light went back solid. After that it ran just as normal, no complaints or hiccups... nothing.
If anyone can help aid me as to what is causing this trouble I would greatly appreciate it!
Also if I left out details ask me and I'll provide them.