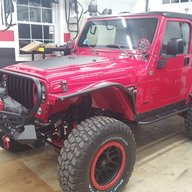 TJ Enthusiast
Supporting Member
Joined

Jan 1, 2020
Messages

892
Location
A friend of mine has an 03 Sahara and told me it wasn't starting. Trying to diagnose over the phone was a challenge but it pretty much stemmed from a battery change. I made my way over and performed some basics.
Jeep will not start nor will it turn over. I can hear fuel pump turn on and SOME relays energize in the the PDC.
Battery was reading 12.4V
No loose wiring
Battery ground to starter block ohm'd out.
Battery positive to starter positive ohm'd out.
No voltage to starter signal wire at the ignition terminal when ignition placed in "start" position.
Jumped starter and engine turned over.
Fuse in PDC is good.
swapped starter relay with another (Horn) and same result.
Bypassed neutral safety switch.. Nothing.
I pulled the starter relay and looked at the wiring schematic of the relay.
With ignition in the "On" position, I probed terminal 30 in the PDC and got 12V. With ignition off, 0 volts. This must be the battery common feed to the starter signal. I did the same to terminals 85 & 86 when the ignition was in the "Start" position, assuming this would energize the coil and relay a signal to the starter. Didn't see any voltage across either terminal.
Looking at the vehicles wiring schematic for the starting system, is it time to start tracing wiring back to the ignition? I asked him if he was rough when replacing the battery and possibly damaged wiring/connections to the PCM. The vehicle does have SKIM. I'm not familiar with how it works but the key light flashes several times (then goes off) with ignition on.