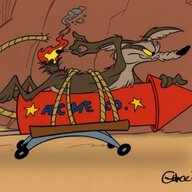 The Church of Cutting Brakes of Atlas-Front Digs
Supporting Member
Ride of the Month Winner
Joined

Jul 26, 2019
Messages

3,448
Location
"Quit paying people to F*ck your sh!t up" - Mr. Blaine
EDIT:
I'm going to capture my current build status here for ease of access:
AXLES:
Front
- Ultimate Dana 44 (JK Rubicon) 2.5"OD x 5/16" wall, 65"WMS, 5.13 gears, stock JK Rubicon electronic locker, savvy truss, C-gussets, Reid high-steer knuckles, Rare Parts Balljoints. Chromoly ECGS shafts with spicer UJ's.
Rear
- ECGS built 489 (JK gears), 3"OD tubes, 65WMS, semi-float, 35-spline Ox Locker air actuated, chromoly rear shafts. Savvy truss widened to clear jk44.
Brakes
: JL HD dual piston front from 2018 Sahara, JL rear flipped to front of axle. All custom stainless hardlines brake lines on axles, AN3 brake fittings. Jk 2 Dr ebrake-cables.
SUSPENSION:
Front
- 12" Fox 2.0 Factory Coilovers RR, 2" travel Fox hyrdo bump stops, 150/250 spring stack, limit strapped, Savvy Midarm 3-Link, 2.0" OD steel LCA with MetalCloak joints, 1.75" OD Aluminum (WOD) with currie 9113 joints.
Rear
- Outboarded 12" Fox 2.0 Factory Shock with LSC adjuster, Currie LJ 4" lift spring, NOW RUNNING COMPLETE SAVVY MIDARM!! YAY!
BODY:
Genright high line fenders, savvy aluminum front bumper, metal cloak sliders, metal cloak steel rear quarter armor, metal cloak rear fender, Savvy tub sliders, DIY 3/8" 6061 skid, DIY Xmember with JL control a bushings, SWAG DIY rear bumper, MorRyde Exogate spare holder with modified OEM mount to hold 37" JK wheel/tire, SWAG high clearance body mounts, Savvy 1.25" body lift, MORE 1" rubber engine lift. Custom cage. JK Rear seat back swapped to LJ rear seat base. ARB dual compressor and MORE over engine mount. ARB distribution block / expansion tank.
GRIPPERS:
37 Milestar Patagonia, Trailready beadlocks 17", 4.5" backspacing
STEERING:
Track Bar
: Custom straight track bar with FKB-RSMX(L)12 heims with 3/4" bolts.
Drag Link
: Wide Open Designs solid aluminum link 1.5"OD with 7/8-18 thread with Parts Mike ES2027L GM drag link TRE (fits pitman arm), Knuckle end Parts Mike EX2234RHD TRE (speficially fits Reid knuckle). Parts Mike flat pitman arm taper drilled at 5.0".
Tie Rod
: Yeti steer smarts HD tie rod.
**************************************** THE HISTORY ********************************
This thread comes at a point where I stopped doing things quickly and started doing them right. Encouraged and informed by the TJ guru himself and guided heavily by Tox's build thread I have finally reached a good pause point to reflect and document. Funds and responsibility have forced me to enjoy what i have for a year or so until I can complete the rear.
My story starts with a Toyota. Don't anyone freak out. I was happily beating the piss out of 98 purple 4 cylinder bone stock tacoma in college. After participating in SAE Baja i fell in love with dirt driving. I got a job and threw ICON suspension on my new 05 Taco. Jumped it in the dunes, beat the everloving piss out of it for 9 years on logging roads, hunting, skiing trips and began upgrading parts to Fox, adding skid plates, high clearance this and that. I went on my first mild trail run and realized i need to straight axle swap this thing and put in a dual transfer case. It was my daily though, so instead I thought you know i should just get a *cheap* jeep and learn about straight axles...
Last edited: