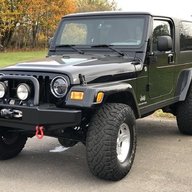 Joined

Apr 13, 2018
Messages

284
Location
Since I've gotten my LJ, 4.5 years ago there is this rattle where the actual pedal itself rattles over bumps. This is not related to it being depressed or not so its not throwout bearing related or anything but it appears that the actual pedal down below has slack in it where when certain bumps are hit it allows the pedal to rattle against the firewall or something.

Sometimes the rattling depending on the bump honestly makes the Jeep feel like a tin can from the rattling. Extremely annoying, I've looked down below in the linkages and see there is some freeplay but has anyone else experienced this? If I am anticipated a bump if I put my foot to the back of the clutch and pull it back towards me (steering column) the rattling doesn't occur. This is a 05 LJ, NSG370 transmission (6 speed) and the jeep only has 19k miles on it so I highly doubt stuff is worn out at this point.

Anyone hoping someone else has experienced something like this with the 6speed, I've found some results but those all seem to be related with the clutch pressed in etc. or some other transmission fault mine simply seems to be a linkage issue and I am wondering how much play there should be in those pedal linkages.