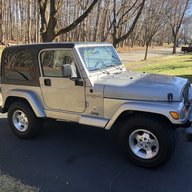 Joined

Feb 11, 2020
Messages

24
Location
2001 TJ, 4.0 i6, automatic, 116k miles
Bought the jeep in February and have been working on it on weekends: changing all fluids, oils, etc. I've got a harsh stutter as it shifts from 1st to 2nd that I've been trying to solve. Only driven it around the neighborhood mostly to test various solutions to the stuttering, and no engine problems. Took it on the highway once for a few miles, got a flashing CEL but no change n performance. Checked at home and had a few misfire codes, but cleared them and they didn't come back (with just local driving).
Last weekend took a trip 30 minutes down the highway. CEL started flashing, then solid on, then flashing, but no change in performance. On the way back home took local roads (anticipating the need to stop), and jeep started bucking a little. Pulled into parking lot. Sat for a few minutes with engine off. Started again and ran fine, CEL still flashing then on solid. For a few miles at least, then more bucking, sluggish, no acceleration. Kept pulling over, turning off then on again. Would buy me a few miles, then get so bad I couldn't keep up with even local traffic (30mph).
Finally pulled into gas station and had AAA tow me home. Pulled these 10 codes:
P0300
P0301
P0302
P0303
P0304
P0305
P0306
P1391
P0351
P0352
Recently changed the plugs to AutoLite iridium XP, properly gapped. Previous owner told me the coil pack had been replaced.
Questions:
Is it likely that one actual problem component is causing all the issues, or more likely multiple problems...if so, what's the best sequence to test to rule out each potential issue?
Would a bad after market coilpack cause all these issues? How can I identify the maker of the coil pack I have now? I know the wrong brand of component can cause issues.
Would a bad crankshaft or camshaft position sensor cause all these issues? What's the best way to test to see which is the issue, or better and easier to just replace both?
As a possible solution to my stuttering, I have the TV knockdown cable tightened...could that cause any of my ignition issues?
Anything else I should be checking that I missed?
Thanks in advance!