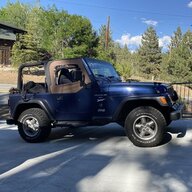 Joined

Nov 25, 2021
Messages

2
Location
I've had my 97 TJ for about a year now. Daily driving has been great. I live close to sea level and this past weekend I took it up to the mountains for three days. It was less than a hundred miles from home but a 7,000 ft climb. The morning after I got up there, I tried turning the TJ on but it would turn over. I gave it a second, then tried it again and it started on the first try. This has never happened before, so I dismissed it, figuring it might have been the altitude. Later that day, I tried starting it and it happened again. The starter spun several times so I stopped, turned the key back, then tried it again where it started perfectly.

Long story short, I turned on the Jeep five times while up in the mountains, and all five times it did the same thing. Now I've been home for several days and I tried turning it on for the first time this morning and it's still not starting on the first try. Any ideas on a possible cause?

Just a little background, about 2 months ago, I found a crack on the exhaust manifold, so I bought one, installed it, and it's been purring like a kitten ever since. It rides great. I just don't understand this new problem that just sprang up.