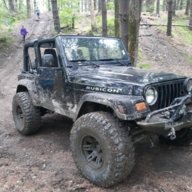 TJ Enthusiast
Supporting Member
Joined

Jun 18, 2019
Messages

467
Location
Today I was cruising down the interstate and my check gauges warning light came on and my temp spiked to 260ish.

I pulled over, popped the hood and everything checked out ok so I jumped back in the jeep and turned key on to see what the temp was at so I could let it cool and I could finish the last 5 miles home. Key on, temp dropped back down to 210 within 3 seconds. I started the jeep up, heard the fan and took back off. Never rose above 210 again.

So basically, I don't trust my gage at all at the moment and want to install a mechanical gage to verify the cluster gage. Where have you guys mounted them. I'm not really a fan of center top of dash or a pillar but google didn't provide many good pics to sell me on those locations either.