Joined

Jun 21, 2019
Messages

189
Location
In the process of doing an identical swap (5.9 instead of the 5.2) and from what I had read, it was easier to use the 5.9 harness and roll with that. What made you choose to keep the TJ harness besides just having it run along the firewall better? Don't know about you, but just about every sensor plug is different on the 5.9 vs my 2.5. So all that splicing and such would have been a lot more for me to tackle. I'm not too far into the wiring stuff to reverse and go the route you described if you can talk me into it. Also, what did you do for the dust shield on the transmission? I'm struggling to find the right part.
I chose to use the TJ harness and "blend in" the 5.2 harness for a few reasons. One, I don't think it would be easier to do it the other way, due to the fact that the firewall plugs are different, the 5.2 harness didn't have any fuel pump plug, there was just too much missing. MAYBE if I would have gone the route of an automatic, it MAY have been easier, but knowing my TJ was already a manual, and I was going to keep it a manual, blending in what I needed from the ZJ harness into the TJ harness was the easiest route. Not to mention my ZJ harness had some funky alternator connections being that it was a 98 and my TJ is a 2000. Lots of odd things like that, made me do it the way I did. There are tons of connectors that were different, but I just cut and spliced those. If you go this route, one piece of advice - depin the 4 injector wires from the TJ harness and discard them. Then, depin all 8 injector wires from the magnum harness and then just plug them into the TJ harness. This way your injectors will already have the correct lengths, and there wont be any measuring or extending of anything. Its extremely easy, I personally think people think too much into it, so much that some of the build threads people have almost made it sound scary, when it's not. Just take your time. I spent 12 hours on mine over the course of a week, and 20% or more of that time was spent delooming both harnesses. Im more than willing to help you out as much as I can.
To answer your second question, the dust shield for the transmission I used was 52107753AC, "Genuine Mopar Shield-Clutch Housing Dust." Here is an ebay think: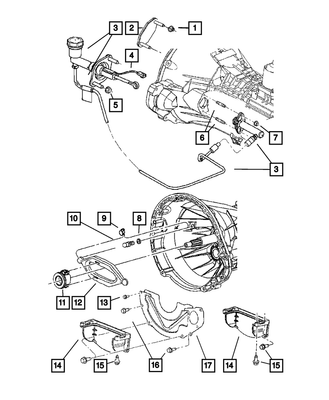 Find many great new & used options and get the best deals for Genuine Mopar Clutch Housing Dust Shield 52107753AC at the best online prices at eBay! Free shipping for many products!
It fit perfectly, and it was cheap. I had to redrill 2 of the holes, which is literally nothing hard. After that, it fit perfectly.
Your third question - the drain plugs. They are just cheap amazon ones that worked great. Fit in the holes perfectly. Here is a link to that:
https://www.amazon.com/dp/B07TCD5WMH/?tag=wranglerorg-20
Hope that helps!