Joined

Jun 29, 2016
Messages

157
Ol Yeller developed a problem in the headlight switch - when you pull on the knob, the lights don't go on until you really fiddle around with it. Push it in slightly, wiggle it, etc. I thought it was non-use, but even after a few weeks of fiddling with it, it's not getting better.
I bought a repalcement switch on ebay: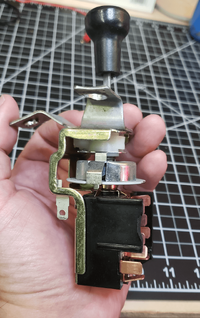 But here's the problem. There doesn't seem to be a 'middle' position (where just the parking lights would be on normally). The knob slides in and out without 'stopping' in the middle. I thought when I frist got it that it did stop, but after I hit the little release button, pulled the rod out, and put it back in, at that point it's possible the middle position stopped working.
Did I put it back together wrong?
I can't get it to 'click' at that middle position anymore...