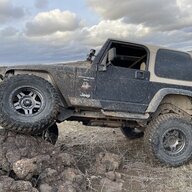 New Member
Supporting Member
Joined

Dec 3, 2022
Messages

2
Location
Hey everyone, I'm new to being a member but have been following these forums for a few years now. I own a 2000 TJ Sahara with a 4 inch lift, 35 inch tires, and ARB lockers. I grew up with Jeeps and have many fond memories off roading with my dad in his old YJ and TJs he has owned. Luckily my dad had found a unicorn of a TJ, as it was a 2000 Sahara with ARB lockers, a 4inch loft, 33 inch tires and under 25,000 miles (in Arizona so it also didn't have any rust). I immediately got it and fell in love with it.
It wasn't long after I had gotten it that I moved to Idaho for school and would go and got around in the dunes and trails of south eastern Idaho. I then moved down to Hurricane Utah for about 2.5 years where I explored sand hallow and a lot of the surrounding areas of Southern Utah.
This passed September, my wife and I moved back to Idaho so I could continue school. Since then I met a few other guys with a TJ (and another with a Toyota), I installed poison spyder high line fenders, and have purchased a motobilt front bumper. Also, I'm an engineering major so I am able to use the different labs on campus that have a plasma table and welders, so I do have access to design and fabricate my own parts. I'm excited to learn from y'all and keep building this TJ!