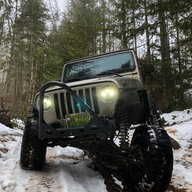 Joined

Oct 6, 2019
Messages

21
Location
Hey Guys,
So recently I was on my way home and at a stoplight had a misfire in cylinder 2, and my exhaust sounded funny and fluttery, I was like 8 minutes away so I decided to drive it home and coast down hill. Long story short, I replaced the spark plugs, still had issues.
I checked my coil pack and it seems to be working fine. I swapped my injector 2 to cylinder 1 seeing if the code would transfer to cylinder 1, no codes.
I drove it around the block, the power seemed fine but noticed my front cat was glowing red so I went back into the garage.
Put in a new Mopar Crankshaft sensor as I had a code about 2 months ago for a bad cps sensor.

Here is a couple videos:
I also ordered a new o2 sensor as I also had a code prior, for 2/2 o2 sensor, haven't put that in yet.
After cps sensor install, new o2 sensor code P0135 pops up. that's bank 1 sensor 1.
Anyways
right now I'm thinking my front cat is clogged.
Any help is appreciated.
Last edited: