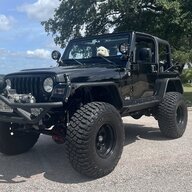 Joined

Jun 15, 2020
Messages

1,374
Location
Just signed up to support and it suggested posting what I've got.
I'm in Cedar Park, TX outside of Austin in the Hill Country. My name is Jason, 48 years old. My first jeep was a CJ5 with a 4" lift, 304 V8 and 35" BFG's I bought in 1991 in college. I'm still sad I sold it when I got married after college to get a stupid Ford Explorer for work, ha. I went 2 full years with no top at all in that old girl, and loved every minute.
May 2016 I bought my oldest son a 2005 TJ with a 3.5" Rancho Lift 4.0 straight six with a 6 speed manual transmission. He just turned 15, so I got to drive it a ton for about a year until he turned 16....and this month he asked to take my truck back to Texas Tech, and I'm getting a TJ as a full time driver for a little while, and I'm never, ever selling it. Got it from a guy deploying to Afghanistan that wanted a 4 door when he got back....I should have known......it looked cool but was "Heavily Used" ha.
Day 1
When we got it, had 4.11 gears, ACT racing clutch (stiffest clutch I've ever used) 3.5" short arm Rancho lift, Flowmaster super 40 exhaust, 9000 LB Smittybuilt XRC wench, Smittybuilt front and back bumpers, Warrior steel tube fender flares, JCR Rock sliders, 6 KC Lights (old school not LED), 50" farm jack mounted, Ok Top, Bestop Half Bikini brand new, BT Windscreen, and Deck Cover all new and a Rooftop rack assembly.
I took him out to Hidden Hills Adventure Park in Marble Falls to start teaching him four wheeling. Rock Climbing was fun, but mud pits are always a hit.....and through experience you learn the cleanup in the engine bay is not always worth it, I'd rather rock climb, ha.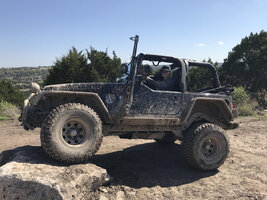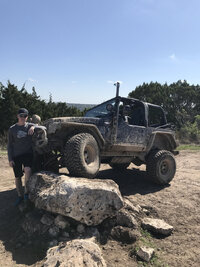 Then we went to work, with help from my brother who's been a mechanic since about 1982, and did a lot with 4 wheel drives at Off Road Unlimited building custom rigs in Houston, and a lot of huge oil field 4x4 Custom F150's that were shipped all over the world, crazy remote places like Siberia. I found this site looking because he said "We need to find some Jeep TJ guys that have experience with the little details that work on this Jeep."
We went to work:
Replaced the front bumper so it would have a quick attach tow bar.
Replaced Valve Cover gasket to fix 1 leak, the oil pan gasket to fix another, and then the rear main seal to fix the 3rd......it's bone dry for the past 3 years.
Put new pads on the roll bars, seat covers, new speakers and stereo with bluetooth to play music easier. Broke a rear axle and put in
https://www.revolutiongear.com/prod..._tj_yj_and_93_98_zj_rear_axle_revolution_gear
these revolution rear axles. That I actually had done, and I cannot remember if they took out the locker that was in the Dana 35, broke it backing out after baseball practice, just don't want to deal with lockers right now. Put on new front sway bar disconnects after we pulled the ball joint out having fun. Synchros went bad and last weekend just pulled the NSG370 transmission and took it to get a bench rebuild. Putting in a new LuK clutch, the ACT clutch was pretty worn. Just put in a rebuilt transfer case and front axle (it decided to drop out while towing it home from Texas Tech. Back when I towed my CJ I disconnected the axles....just in case....I know that's not necessary anymore, but I should have, ha. It was a one day 10 1/2 hour round trip to get out of the dorm quick during this COVID stuff, so I didn't even think to get under and check the u joints just in case, and of course. And new brakes last summer before heading to college. Also a new Quadratec top with the tinted windows for heat in Texas. I've got the new shift boot assembly coming to put in as well to cut some heat and noise.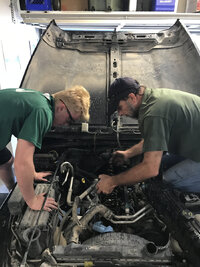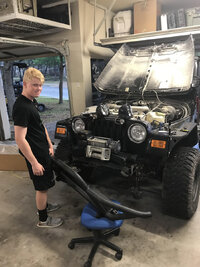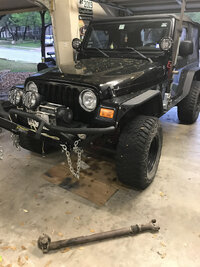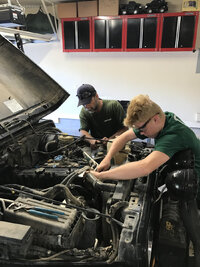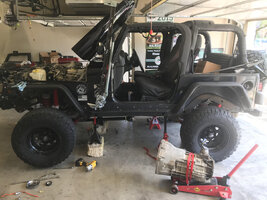 The tires are close to needing replacement, I'm thinking 35" BFG muds because I like them, ha. And I bought them in 1991 for my first Jeep when Mickey T" and Dick Cepek's were the big thing and I put on BFGs.
This is the TJ thread, but I bought my 2nd son a 2008 JK and put 35's on it, a bumper and a jack and some lights, and a new top for now.
My fun goal was to first teach them on a standard, second teach them to off road and third to turn wrenches when you break something. Plus I get to drive them a lot, and hang out with my boys.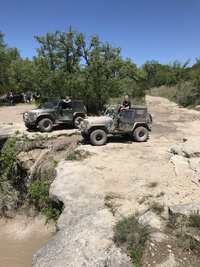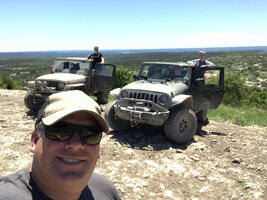 Of course, having my daughter and my wife.....looking over Lake Travis, now that's a good day wheeling!
Glad to be on here and LEARN from all the TJ folks that have a ton of experience. I'm looking to have fun and learn from others.
Later,
Jason from Texas
Last edited: