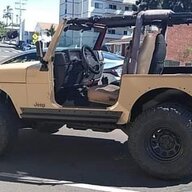 New Member
Supporting Member
Joined

Dec 10, 2020
Messages

9
Location
Just changed the oil last week in my 02 Tj with 163k on the motor.
No issue right after the oil change. Sat for a few days and I started it up and pretty sure I got piston slap for about 10 seconds. Then it went away.
This morning. Same thing...for about 5 seconds.
I used 10w40 castrol high mileage syn blend for this change as I got it on sale pretty damn cheap. Usually use 10w30 high mileage whatever is on-sale.
Can the oil weight change cause this issue?
It's only at cold start up and goes away quick.