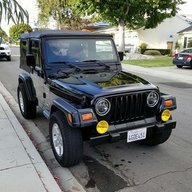 TJ Addict
Supporting Member
Joined

Dec 15, 2018
Messages

1,156
Location
For those with plans to add 50 cal ammo cans. These are kind of interesting. As they open sideways instead of from the end. Might work better in some applications in your Jeep. They look like they have easier access in tight spaces. As the lid does not have to raise up so high. Might even work for a better center console ammo can. Or under the hood if 50's fit under the hood. Not sure if only 30 cal fits under the hood. Anyway just passing this along to you DIYer's that might find these useful. FYI this surplus store is my local surplus store. Good guys. It's owned by VooDoo Tactical which is housed next door.
https://majorsurplus.com/collectible-50-cal-ammo-can.html
I'm personally looking for one large surplus crate that would fill the backseat area. So if you have any leads that would be greatly appreciated.