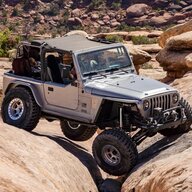 Winter is coming.
Supporting Member
Ride of the Month Winner
Joined

Mar 23, 2018
Messages

8,194
Location
Many friends said to just put a 4 inch lift on it but was thinking if stayed with a 3 inch I would be skipping having to mess with drive shafts etc .

sounds like the rancho shocks are the ones . More that likely a 33 is going to be ideal .
3" lift would likely cause the same issues assuming it was all spring and not a combo.
Think your right . 33 with minimum lift might be best consideration . Flat fenders 1 inch body lift and new shocks ?
Flat fender or highline? MC gives about a 1.25" gain over stock but otherwise, unless you go highline, you won't gain any uptravel over stock with flat fenders.