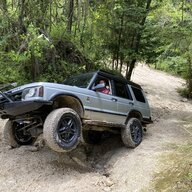 TJ Enthusiast
Supporting Member
Joined

Aug 13, 2020
Messages

160
Location
Rebuilding a 2003 with a 2.4 L. Finally got this thing running but had some vacuum issues that I traced to the brake booster. I have three remaining issues I am working through. Would appreciate any guidance folks can provide.
Since replacing the brake booster, the brake lights stay on
Still getting p1491 - Radiator Fan Control Relay circuit. Fan will not come on at temp. I have verified the fan works when I pull out the relay and jumper connector pins. Fan relay and coolant sensor not replaced. Wiring tested ok.
Jeep will not crank intermittently. I have to turn the key in the ignition a couple of times before the starter will engage then it starts ok. Ignition switch has been replaced.
No codes except fan relay.