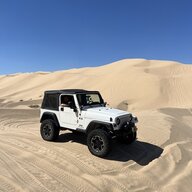 Joined

Aug 5, 2022
Messages

20
Location
A picture of my dad in my TJ^
Anyways, I've owned my TJ for about four years now. I've been very meticulous with it and one thing I could never get right is the ride. I am currently running around a 4" short arm RE lift with the rancho 5000X shocks. This lift came with the TJ. I have the tires at 27psi. I daily drive my TJ and if I want to keep it for years to come I'd like to address this. My Jeep is light with a soft top and aluminum rear bumper.
Should I outboard and have shocks valved? Should I buy a long arm kit?( Haha kidding) I've followed Nick's yellow jeep build thread and saw Mr Blaine outboarded his shock towers and valved fox shocks. Would that be my best option?
Thank you for reading all of this!