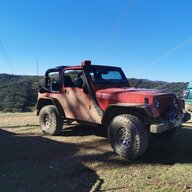 Joined

Jul 28, 2022
Messages

7
Location
I planned to do a 5 minute video run down once I get the airbox fitted and tune it, still a few weeks away from tuning
so I'll do a quick run down now and video tomorrow of the project so far.
I built this over 6 weeks, almost entirely in pouring rain on soaking wet driveway and the middle of winter which was fun. Its obvious I'm not a welder although I do manage decent beads with RHS and thicker material I often use for work. Doing all the pipe work in thin guage tube, especially the ultra thin stainless with a mig running flux core was a learning curve. I started by laying beads and toward the end of the build moved to spot welding to allow more heat and less holes - I really should have set up the gas but it's hard where I'm building right now.
The basics are:
Chinese GT3582 with .63ar (first time using non brand turbo).
AN4 PTFE Braided feed, An10 or 5/8 hardpipe drain.
1/2 inch water cooling pipes now made, yet to fit.
Chinese air to water intercooler with 3 inch Inlet / outlet (could not get an air to air in The TJ without butchering the car. All pipes are 2.5 inch. These coolers don't come with a bleeder so needed one of those too.
KN pod filter currently sitting in place for initial road testing but will be replace with KN 54 series inline filter or make a box, currently checking what fits. I will then reconnect to the snorkel - not a KN or pod filter guy but space constraints mean I can't use a normal air box with paper filter unfortunately.
The heat exchanger is an Aeroflow race series single pass transmission cooler all plumbed with 3/4 hose.
Davies Craig/Bosch water pump.
Exhaust hot side starts as factory from the manifold, factory mini cats into a 2.5 inch merge. Then 2.5inch goes to a T3 flange. This clears the Alternator and steering shaft by about 10mm or 3/8 - it's tight.
Dump pipe and full exhaust is 3 inch.
Wastegate is GFB 44mm which is plumbed back running 10psi boost. It took me more than 10 hours just to build the merge pipes, it was tacked in the car one mandrel or pie cut at a time, then I removed the exhaust housing and the hot pipes and assembled them all on the ground and welded them. Doing merges on that angle without pipe notchers or any prior experience notching pipes was fun.
Radiator is an Adrad (aussie made but rubbish, they should be ashamed to sell it). It required significant modification to fit the car stock, now its very modified to allow clearance for hoses (see video once posted.
Fuel system is stock pump, 660cc Siemens Deka injectors.
Neon SRT 2.25 bar Map.
Rear rocker cover CCV elbow has been drilled out and an inline PCV has been fitted instead. Front elbow will feed to pre-turbo position after the airbox. I know most members here are in the US and many just bin the emissions stuff but I live ill probably be most ridiculous state in Australia we're just about under communist rule so we can't do anything without being defected and put off the road.
While apart I did timing chain, rear main, water pump, idlers etc.
So anyway that's a brief run down, when I put the video together it will be much easier to see how it's all come together.
I have put 2 hours of road testing on it, no leaks, no problems yet, boost response is excellent but of course being untuned I've only spun it to 2-3psi literally for a second. Time for tuning!
Last edited: