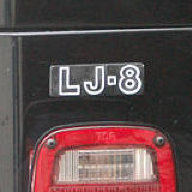 TJ Enthusiast
Supporting Member
Joined

Feb 13, 2020
Messages

766
Location
Accessories that suck (in a good way).
At SEMA in November I can across a company called SeaSucker - they make cargo accessories for boats and vehicles that attach with powerful suction cups. Here's one of the products they were showing, it's a Rotopax holder that can stick to the side window or body side of a vehicle (
https://www.seasucker.com/collections/seasucker-camp-line/products/rotopax-tank-holder
):
At SEMA they were also showing a range of things mounted to a Gladiator cap window:
At SEMA there was also a Chinese company offering similar suction mounts, but theirs have a vacuum motor and a battery and they detect loss of suction and automatically tighten the suction grip when that happens (
https://www.onyxmount.com/product_detail/Electricity-type-of-vacuum-mount/GIIKO-EVM
). They were demonstrating this rack with their automatic vacuum mounts:
Both of these interested me enough that I decided I would experiment with vacuum mounting. I kept in touch with Chinese company and their automatic mounts are not on the market yet but just about ready for testing, so I may get a few samples from them but in the meantime I found a source for discounted SeaSucker mounts and picked up some samples to play with.
Since a Rotopax holder already exists, I had to try something else. How about a table that mounts to the side of the Jeep?
A while back I designed and built a tailgate table with features not found in any other table and I still have the prototype here so I decided to try that with suction. Here's the table on a TJ tailgate (using screws, before suction):
I designed that table so that with a minor change in mounting hardware the same table could be installed on TJ, JK or JL tailgates, and since it was designed to be adaptable it was easy to make a suction mount. Check it out:
The MOLLE panel is optional and perhaps not necessary for the side mount version.
The way I designed the vacuum mount I don't intend the table to be installed while driving - I only used two suction mounts at the top and it has rubber feet that rest against the body at the bottom but with two vacuum mounts at the bottom it could remain installed while driving.
Another idea... a while back I designed a MOLLE panel intended to mount inside the hardtop and be accessible through a side window/hatch:
I've still got that prototype panel here so I decided to try it with vacuum mounts on the outside. For this test I used 4 vacuum mounts so the panel could be left in place while driving.
The vacuum mounts are rated for 120lbs. each and this panel has 4 of them, so it's not going anywhere. The table is mounted with only two, but even so that's 240 lbs., so should be plenty.
I think that accessories that suck have a future.