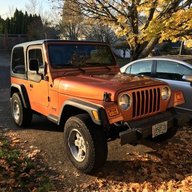 Joined

Sep 8, 2019
Messages

367
Location
I'm no expert I'm trying to sell my jeep right now and wanted to get your guy's take on my listing(s). Improvement ideas? I'm trying to sell quickly but $6600 would be the absolute lowest I can go. I've already put $200 into it since I bought it for $7000 and I think the aftermarket hard top and cool sliding windows is a good sell. My goal is if say they try to get me down to say $6500 I'll go back to the $6800 and offer 4 studded snow tires.
In my area it seems I offer the best value and price. I see other good quality 2.5's for $7400+ but they have like soft tops n' shit and then obviously the 4.0's from $8500-$15,000.
I have a listing on offer up but because that's an app I can't link it. 700+ people have viewed it. Only 4 messages though. 2 of the four asked for prices such as: $4500 and $5000
Very good condition. Bought it from a mechanic it was his sons car. Mechanical condition is excellent. It was serviced and detailed recently. Interior is good with carpets being abit worn....