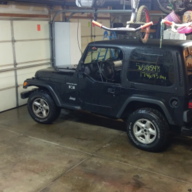 Joined

Dec 19, 2018
Messages

146
Location
I just have to comment.
1) If this deal falls through, call a frame shop, ask them what it'll cost to take a look at the frame and say that it's in good shape. Then you can sell it as "salvage title Jeep fixed by this mechanic and validated by this frame shop" which will carry weight for buyers open to a salvage title but on the fence about the actual damage.
2) Fix the leaks and be done with them. You don't have to disclose them if you addressed the issue. Can you imagine selling a Jeep and having to tell a prospective buyer about every fix we've had to make to our Jeeps?
3) Miata's are the most popular roadster ever. You're not going to have a problem finding one when you are ready to get one. Maybe holding on to the Jeep for a while longer puts you in a better position to get the Miata.
4) You said the Jeep with a clear title in your area was worth about $8k. Most people will tell you a salvage title will net you about 60% of a vehicle with a clear title. So..... There is a real & valid reason people are suggestion you take the first $5,000 offer you get.
5) I'm looking for a Miata too. (likely a 2021 project) What Miata forum are you on?
Good luck, I hope it works out for you.