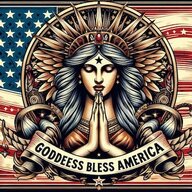 "The Veiled Male"
Supporting Member
Joined

Apr 2, 2020
Messages

13,048
Location
Those are all really neat. The level of detail is incredible. Even those that came out "wrong" are really cool. Wrong as in not what exactly what you asked for.
Some are "wrong" as to be impossible. The skeleton with "french horn" was the best of the four - none of the "french horns" were even something that would work in the real world, never mind not looking like a french horn. The steampunk Jeep was also the best of the four - the others wouldn't be driveable because of all the crap on the hood, and this one barely would be. Other oddities were hearses with caskets on top and travel trailers mounted on flatbed trailers.
But you're right - its pretty cool. An interesting toy. I actually was able to use an element of one image as part of a logo for my yootoob videos.