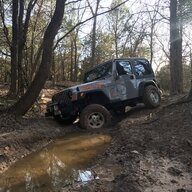 TJ Addict
Supporting Member
Joined

Feb 26, 2020
Messages

1,281
Location
So a few days ago the red airbag light came on after I turned in the Jeep (Along with the warning horn). I didint think much of it and figured I would work on it when I get home.

got the Jeep home, scanned for OBD2 codes, and got nothing (I have since learned this is to be expected) tried unplugging and repluging the passenger air bag switch, light still turns on after the Jeep starts. I cleared the computer (cause why not) Light still comes on. Just been driving the Jeep for a couple days since.

from what I'm reading these airbag codes are persistent (won't go away until cleared) and can only be cleared by a dealer computer. Is this true? Am I really going to have to hand my keys over to the monkeys behind the counter? I'm normally very much a DIY kinda guy. And would like to avoid the shop/dealer if possible.