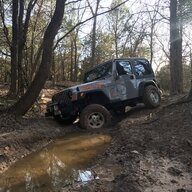 TJ Addict
Supporting Member
Joined

Feb 26, 2020
Messages

1,281
Location
Alright, so I have loooked at several other threads and am now stumped,

Red airbag light is on, has been for months. It was flashing intermittently when it first started, seemed to come on as the Jeep warmed up, but now the light stays on continuously from cold start. (It is 110* ambient here)

The amber airbag off light by the passenger airbag switch illuminates when the ignition first comes on and goes off after a few seconds, the switch appears to function normally.

The horn has always worked, but I tried replacing the clock spring with a used unit, light is still on.

Had the dealer read the code, said something about airbag open circuit, but they weren't exactly friendly when I wen't to have it checked.

Thoughts? Airbag control module?