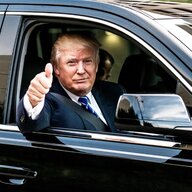 TJ Addict
Supporting Member
Joined

May 27, 2019
Messages

2,506
Location
Ok. I might go the the rattle can route with paint match code.

No perforated side panels that are included now? I'm not sure those are all that practical or what parts of the engine compartment they provide access to, or even how critical it is to remove engine compartment heat. And I expect they'd let dirt and moisture in.

My LJR has Poison Spyder sliders and I assume PS rear quarter guards. I don't know if mods would be required for fitment.

I asked MetalCloak that question and they say they provide a template to cut the sliders to fit their fenders. Guess I need to ask GenRight the same questions.

Gonna go look for TJ/LJ pictures with 6" GenRight to see if I find them ugly. I'm no fan of mud splatter and avoid mud as much as possible. Ain't scared of the mud but cleaning it is awful. We have a special formula of mud in the high desert. Bug dust/talcum powder summer and Plaster of Paris when water is added. Basically chisel it off if left to dry. We get stuck in the dust out here.
The only issue I can remember with the PS Sliders was in the rear when I added the GR Alum rear corners. The GR corners are made to work with there sliders is I had to fabricate a little filler piece out of Alum but if your not adding corner guards it's no problem. Also I think the side panels allowed access to a bolt that holds the fenders in place but I may be wrong its been a few years since I put them on