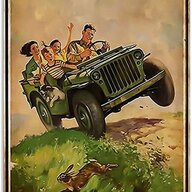 New Member
Supporting Member
Joined

Feb 10, 2021
Messages

5
Location
Hello everyone,
Well I have been meaning to join for awhile and, with the wife and I finally deleting facebook, I knew I would need a place to get my daily jeep fix!
I have wanted a jeep sinceas far back as I can remember.
Fast cars and motorcycles always got in the way of that dream.
That was until I finally got the chance to buy my first jeep.
August of 2019 I walked out to sit on the porch with my wife and she held her phone out to me to show me a picture of a beat up 1980 cj7 for sale and told me only 2 words buy it! I could not believe what she was saying. Without asking if I heard her right I contacted the seller and struck a deal $500 and 2 boxes of parts and I had my first real jeep. We worked our butts off that first month tearing it apart sanding, welding in new sheetmetal, painting and, fixing my new toy up. Finding parts was a blast from a hard top and doors to half doors with uppers etc.
We had a ball with the old CJ driving it any chance we got.
Then last january as luck would have it a friend of ours wrecked a beautifull 2006 TJ rubicon with 80,000 miles that they only had for 2 weeks. They got the news from insurance that the rubi was done for. This is where my luck comes in, the accident happened in a snow storm. I got a call that cold january day that they had wrecked the jeep and needed a tow (they had not been injured). So with trailer in tow I made my way through the storm to tow the little rubi back to a body shop. Upon my arrival I could tell she was in bad shape. Ice on an overpass caused a spinout into the concrete divider head on.
The owner did not like my reaction when I got out of my truck as I said " that looks to be totaled" quickly they said no way it will be fine.
I just grinned and begain the process of loading the poor little jeep onto the trailer for the 2 hour long ride home.
It was a quiet ride home, untill I finally asked the question that had been burning up inside me since I seen the current state of the jeep.
My friend asked if they could compensate me for the tow, I declined any money only to ask for one thing. If the jeep is totaled give me first dibs to buy the jeep back from insurance. Shocked my friend looked at me and said thats it?
I said yes thats all. They still thaught it would be a long shot to be totaled, and with that the deal was made.
Three long weeks went by till I finally got the phone call from my buddy, "hey chris do you still want the jeep? The insurance company totaled it and you can buy it back for $1320" I could not believe it I was going to get my dream jeep!
Now she sits in my garage in pieces, as I had to buy a new frame and many other new parts to bring her back to life.
The CJ and my wifes Commander where sold this summer to finance a new JLU for my wife so that I only have one project to take up my free time instead of 3.
Pictures 1,2,3 ~ 2006 rubicon
Pictures 4,5 ~ 1980 cj7
Picture 4 was first night I got it running.
Picture 5 was after paint and many other improvements.