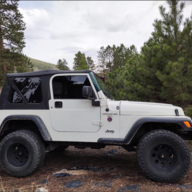 Original TJ Owner
Supporting Member
Joined

May 11, 2020
Messages

7
Location
I've commented in a thread or two about my 1999 4.0 M/T needing a cooling system overhaul. This isn't one of those "if it ain't broke, don't fix it" situations. My sh*t is really broke. I believe I've read just about every post in every thread about cooling systems and haven't run across this issue. But if I may stand corrected, by all means....correct away.

My OEM radiator has a significant leak on the top seam and is gently spraying coolant on the front of the engine, inside hood, and components. I want to flush the engine and heater core (the entire system really) before replacing radiator, pump, fan clutch, etc. but I'm wondering if using Thermocure (or something similar) would be wise since some of it is going to end up spraying as described above. If the answer is "no, not a good idea," then how can I flush the engine without a usable radiator? Could I bypass the radiator, pull the thermostat, and only run for a very short amount of time to circulate the solvent? Maybe do this two or three times a day for a week or so. Or is that also a risky idea? I have flushed the heater core several times and I know that can be isolated from the rest of the system, no issue.

Any ideas or advice?

I appreciate any help. I've owned the "Strangler" since I was 25 in 1999 and now I'm finally beginning to replace parts. I'm at almost 200K miles and it has been a very reliable and fun vehicle. The radiator is original.