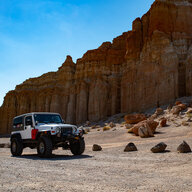 TJ Enthusiast
Supporting Member
Joined

Oct 19, 2021
Messages

980
Location
I didn't see anybody presenting the accumulator as something other than what it is. But on that, containing a dessicant makes it an accumulator-dryer.

Plenty of systems don't have accumulators, in fact they're not actually used very often in comfort cooling AC applications where the load and operating conditions are fairly stable. Where you see them is primarily in automotive where there is a fixed expansion device and loads vary from 100 ambient with high humidity, down to the depths of winter when the defogger is on. They're also used a lot in refrigeration which experiences large load shifts when portions of the system enter and exit defrost cycles.
Sounds like your an hvac guy. I was going to move my A/C unit across the yard and bury the lines and the recommendation was to install a accumulator to prevent liquid slugging of the compressor due to liquid accumulating in the lines underground.