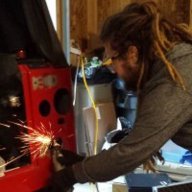 Vroom vroom
Supporting Member
Joined

Mar 29, 2018
Messages

6,783
Location
I have a few house projects needing work, probably 3-4 weeks worth, and I had a carpenter give me verbal confirmation that he was interested in the project a few months ago so I thought it was all lined up. Well, now that it's time to start locking down the project he's not responding and all of the other carpenters are booked up (a lot of people moved to my area in 2020-2021 and I'm not the only one having this problem with contractors backing out of jobs).
A few YouTube videos later, and I'm pretty confident that I'm able to DIY it every bit as good as the pros.
The side door is the worst, the roof drips onto the porch and caused the door frame to rot. My biggest fear is pulling the door out and finding that the framing has rotted too. Then I'd have an open hole in my house all next winter and nobody available to fix it until Summer 2023.
So, if there is rot on the framing under the door, what is the right way to fix it?
Last edited: