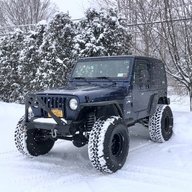 Joined

Jan 9, 2019
Messages

159
Location
Hello! So I am moving across the country, from upstate NY, to Oregon, in July this year. I'm looking at roughly 2,400 miles of travel, that I'm planning on doing in about 7-9 days.
I should mention, I'm driving a 2001 wrangler tj with the 4.0 inline 6 5 speed manual with stock gears running 35's(bought it like that have yet to do a regear). It's got 109k miles on it and will have about 116k when I do the move. I've timed my oil changes so I'll be doing that and a tire rotation before I leave, as well as doing the spark plugs. Are there other things I should do(maintenance wise) of the Jeep before making a 2,400 mile trip? I'll be averaging 350ish miles a day because I don't want to go crazy on my baby doing a shit ton of miles in a day.
I won't be hauling a trailer, bringing only what I'm fitting in my Jeep so I won't have to worry about that. The Jeep is in great condition, built by a mechanic, pretty much no rust at all(it's a NJ Jeep and for a upstate ny'er this thing is as good as they come on the upper east coast). I'll attach a pic if that helps anyone with giving advice.
Cheers!