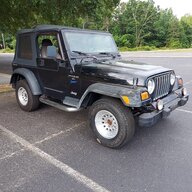 TJ Enthusiast
Supporting Member
Joined

May 25, 2019
Messages

125
Location
I recently switched from 35" MTR's to KM3's so I'm not really in a position to comment on tread wear. There are some things I really like relative to the MTRs. First, the ride is so much smoother and less jarring. KM3s have a nice ride. MTRs not so much. Second, the tread width is significantly narrower. I wasn't sure this was a plus until I realized the PS front tire no longer rubbed on the control arm--no spacer required. Third, I seem to be getting a few more miles per tank. Fourth, at this early stage, the KM3s are very quiet.

The only negative so far is that they are rock chuckers. They pick up gravel and then it hits the body.

I was resigned to get KO2s as probably my best tire choice but couldn't find any in the country. I'm happy with the KM3s which seems to me to be something of a hybrid mud terrain as opposed to a full med terrain.
Nah, they are a full mud terrain tire. Trust me. We test them.