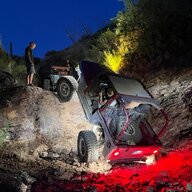 153624
Supporting Member
Ride of the Month Winner
Joined

Jul 12, 2019
Messages

3,349
Location
Edit: Check out my profile for full current build list
Check out my wheelin pics in my
Arizona Wheelin
thread
Edit: Wheeling pics and video just get posted in here now
Hey guys I got my first Jeep 5 months ago and have fallen in love with wheeling and working on it myself. I wish I would have started a build thread right away but here's a summary of what I've done so far...
I got a 99' 4.0 Sport with only 67k miles for $10k and looked like this when I got it. Extremely clean.
The Jeep had two owners. The first had it lifted with 33s and the second lowered it back to stock. Luckily it had some leftover goodies! Major parts:
- Bilstein 5100 shocks 0-2 inch lift
- All adjustable control arms (rough country I think
)
- 30.5" Durotraks
- Eaton True Trac in front Dana 30
- Open Dana 35 rear
- 4.56 gearing (major jackpot)
First I put Procomp 2 inch lift coils in since so I could get lifted without buying shocks and SYE and all that. All I needed was the coils for $200 and an OME rear track bar relocation bracket ($40). The bump stops were already extended an inch so I didn't mess with those. This got me lifted and out in the rocks
After a while I started really getting the itch to put my 4.56 gears to use with some 33's. So I got a 1.25" JKS body lift and 33" BFGs
This is how she sits now. Other upgrades I have put in
- Cb radio w/ 3' firestik antenna (~$70)
- Detroit locker in rear and Super Dana 35 axle shafts (on Craigslist together for $400)
- Some AWESOME China LED headlights that are knockoff Speakers ($90 Amazon)
- Tinted windows/windshield ($100) (because Arizona)
- Currie Adjustable front track bar ($350). Old one made popping noise when I would turn wheels left.
- JKS quicker disconnects ($80 brand new on Craigslist)
- a used rear driveshaft ($95) to cure my cyclic vibrations I was having. The old one was so dented that it couldn't be balanced. New driveshaft eliminated all my cyclical vibes.
Let me know if anyone wants links to parts.
...and now we are all caught up! Special thanks to all the active knowledgeable guys on here for teaching me literally everything I know about jeeps like
@Chris
,
@Jerry Bransford
,
@JMT
, and
@mrblaine
.
My plan is to build it slow and steady so as to enjoy the build process. I want this rig very off-road capable. I enjoy extreme activities. And also as smooth on the road as possible since it is my daily. I'm thinking of allowing myself to buy one thing a month.
Ultimate goals are:
- SYE / CV
- Currie 4 inch lift
- selectable front and rear lockers
- tummy tuck
- good armor (currently have none except oil pan guard)
- some badass bumpers and winch
-35's when my 33s are worn and all necessary components for 35's
- highline fenders after 35's
Veteran guys how would you proceed next on this build?
Last edited: