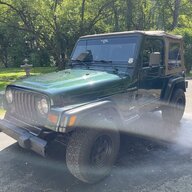 Joined

Apr 22, 2023
Messages

128
Location
This is ridiculous. I am averaging 5mpg as a daily driver. Noticed it for a few weeks.

2000 TJ 2.5L Manual
No lift and (same size tires as they have been on for many years).
New spark plugs and distributor
New exhaust manifold
New Downstream O2 sensor
New air filter and tires are all balanced and up to the recommended PSI.
I have run seafoam twice in the gas tank since last month as maintenance and to clean any possible injector clogs.
The most recent thing I have done to the jeep was changing out the U-joints on the front driveshaft.
No transmission slippage either, I replaced the fluid myself.

Help me with this issue please! Is it worn piston rings? did running seafoam (recommended amount based on the instructions on the bottle) mess with something?