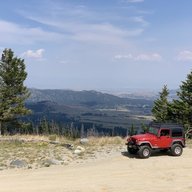 Joined

May 20, 2019
Messages

48
Location
I was reading about this swap on another forum. Here's what someone said:

"A late 90's 2.5 Dakota bell housing with an ax15 will work but it is a bit of a swap. You will have drive shaft length issues since the ax15 is a bit longer."

I read on Novak that the AX5 is 15-5/8" long, and the AX15 is 16-1/2".

Here's my question. Is that extra 7/8" on the AX15 going to require a shorter dual-cv driveshaft length if I install a SYE first? Meaning, can a dual-cv driveshaft absorb the transfer case moving back 5/8"? I guess I'd need to consider the length of the Dakota bell housing too. I don't know how that compares to the TJ bell housing.