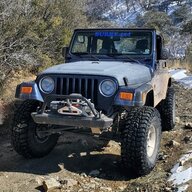 I Loves Me Some Arizona.
Supporting Member
Joined

Mar 15, 2020
Messages

5,073
Raw unedited video of my rambling's and my ugly mug. Bonus at the end busting chops on the enclosed Jeeps of
@PurpleTJAZ
and
@Farmergreg
. Another storm passed through the area the night before. Elevations 3200' and above got various inches of snow.
@DaveC
bowed out. Understandable not sure knowing the conditions.
With the expecting the worst thoughts in my head, What A Fun Day. Mud, snow and water crossings. Dead Jeeps and friends who would not leave dead Jeeps behind. Tall boy PBR's at the Crown King Saloon. Meeting another new friend Dan. Dead Jeep < Day spent outside with old/new friends = Priceless.