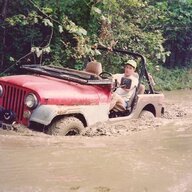 Joined

Apr 28, 2020
Messages

51
Location
I went up to Indiana earlier this week to visit my mom and look at some projects around the house she would like for me to tackle this summer.
While there, I snooped around in my dad's old pole barn to see what I might find. I knew he had an 8274 on his old 3/4 ton Chevy Suburban, but my little brother had scavanged the winch bumper off of it for one of his projects.
Lo and behold, the winch was back in a dark corner and I talked with my bro if he'd have a problem with me putting it on my Jeep. He said he didn't want to use it as it takes up too much space in front of the radiator. Oh, well, I'll deal with that problem...if it even is one. So, I packed it back to Tennessee today and sat it on the bumper to get a look at it. It was working....years ago. But, I know it needs some freshing up. I think it will be worth the effort.
Anyone good with Warn serial numbers and date codes?
As you might understand...this will never be for sale...in case you had the thought. It's kind of a family heirloom.
Thanks!