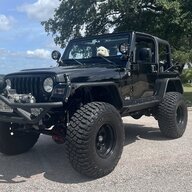 Armed Texan
Supporting Member
Joined

Jun 15, 2020
Messages

1,163
Location
My 05 4.0 I've gone through everything. Changed tensioner and other main pulley, put un needed new power steering, and it's the belt, I changed, went away, and it's slowly coming back on a 2nd new one. Racking my brain, water squirt completely gone. It get's louder with RPM, rythmic.

I know it's probably just keep at it, keep looking, but I'm not sure what's up. I'm not seeing a coolant leak onto it that may cause it, I'm in deep checking mode still though.

Anything someone knows of? I've looked, and seems like the belt is farther out on the water pump pulley than the tensioner...maybe, but I might be over looking it. Was thinking maybe the part is not in line orsomething. Very frustrating.