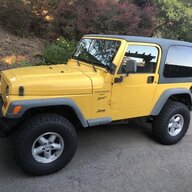 Joined

Dec 28, 2018
Messages

28
Location
So my Ball joint, Unit Bearing and U-Joint replacement project has hit a snag. The Ball Joints are in, but I bent one of the ears on my Stubby Axle Shaft pushing the U-joint in. This is a Dana 30, driver's side. It was a pain in the ass to get the joint back out. I've got a second one to use, but I don't want to damage it trying to get it in there.
Here's what it looks like:
Anyways, I found this replacement shaft on Amazon: (sorry for the long link!)
https://www.amazon.com/dp/B0078U9GS2/?tag=wranglerorg-20
However, it looks different than mine. It has no flange that goes behind the unit bearing. Will this work as-is, or is the flange a separate part I also need?
Thanks,
-B