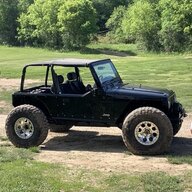 Joined

Jun 1, 2021
Messages

51
Location
Hi everyone! I'm Kyle and this is my Jeep. I am pretty new to this forum but I've been in the hobby since 2009 when I originally brought this TJ home. I have another build thread over on Jeepforum that I started years ago but traffic has really slowed down over there so I wanted to post a condensed version here for anyone interested.
I initially bought this Jeep as a daily driver as I headed out to Colorado for college. Once I was out west, I quickly found my way off of pavement and spent several years wheeling. In 2014 I moved home to Minnesota and the Jeep became a second vehicle as life settled down. I had it in storage for a number of years. Last year I decided to take it back out.
I'm finally getting back into the hobby! Follow along as I bring you up to speed.
Here is what I started out with. It is a '98 base model. 2.5L AX5 231 Dana 30/Dana 35