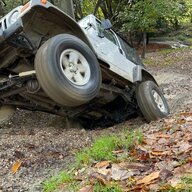 Joined

Dec 30, 2020
Messages

1,003
Location
For Christmas I was fortunate to receive an ARB compressor, it is the middle one so it can run both air to tyres and lockers which will hopefully be fitted in the near future. I'm hoping to be able to fit the compressor in the next few days but I wanted to get thoughts on the best location.

My TJ has an empty tray on the drivers side of the engine compartment just in front of the fire wall, this seems to be a popular mounting position for a compressor. However, having just read the long list of suggested considerations for the mounting position in the ARB instructions I have a couple of questions.

The instructions say the mounting location should be "...above the highest possible waterline to avoid submerging during water crossings..." and "...position must allow free flow of dry, cool air to the filter assembly (unless an intake extension tube is to be used...". What I now wonder is whether the requirement to be above the waterline is only to ensure the dry air flow or is there a wider issue with avoiding water getting into the pump itself other than through the air intake? I have seen Jeeps where differential breathers are run to the top of a snorkel (more common in the UK than in the US I believe) and I wonder if this is an option with the compressor. Otherwise mounting on the tray mentioned above (which positions the compressor below the stock air intake) will permanently reduce wading capability. Does anyone have an ARB compressor installed in a position where it will occassionally be fully submerged? And if so has it caused any issues?

If the compressor itself can't get wet, then it would seem the best thing to do would be to mount it inside the Jeep and get used to any noise. This would certainly help tick some of the other boxes in the ARB list of considerations, such as trying to get the compressor halfway between the axles in a dual locker install. However, I am then unsure of how the airlines would be run from inside the Jeep. Has anyone done or seen an install inside where the compressor is used for lockers? And if so, how were the airlines run?

Many thanks in advance for any input.