TJ Addict
Supporting Member
Joined

Dec 15, 2018
Messages

1,767
Location
I know everyone is against carrying gas in extra jerry cans. But I live in LA. And am constantly reminded of how easy it would be to get evacuated in a natural disaster. So I want to be able to carry at least two jerry cans of gas. (And two jerry cans of water.) In the event we're stuck on an interstate fleeing the city. Gas and/or water may not be available. And my Jeep like so many others is a GAS HOG. And it can be a long haul to get out of LA on the freeways in bad traffic.
I have a Smittybilt (I know "Shittybilt".) tubular SRC rear bumper with tire carrier sitting in my garage. That I know you can add jerry can holders too. (But it's known to be a little jinky when it comes to a rattling tire carrier latch. Mine is a little loose. I'm going to attempt to fix it. The only thing - beyond looks - that I like about the Smittybilt SRC is it's tow rated to level III at 5000lbs. Otherwise I would have opted for the Redrock or Rugged Ridge bumpers. Which are the only other two tubular designs I've found.)
Here's the Smittybilt SRC rear bumper with tire carrier for $468. I got it for $100 used which is why I'm willing to try to fix it's latch rattle. The matching front bumper is also only $200. SO if I made it work. It would be a $300 front and rear bumper with tire carrier set up. Minus the cost of jerry can holders: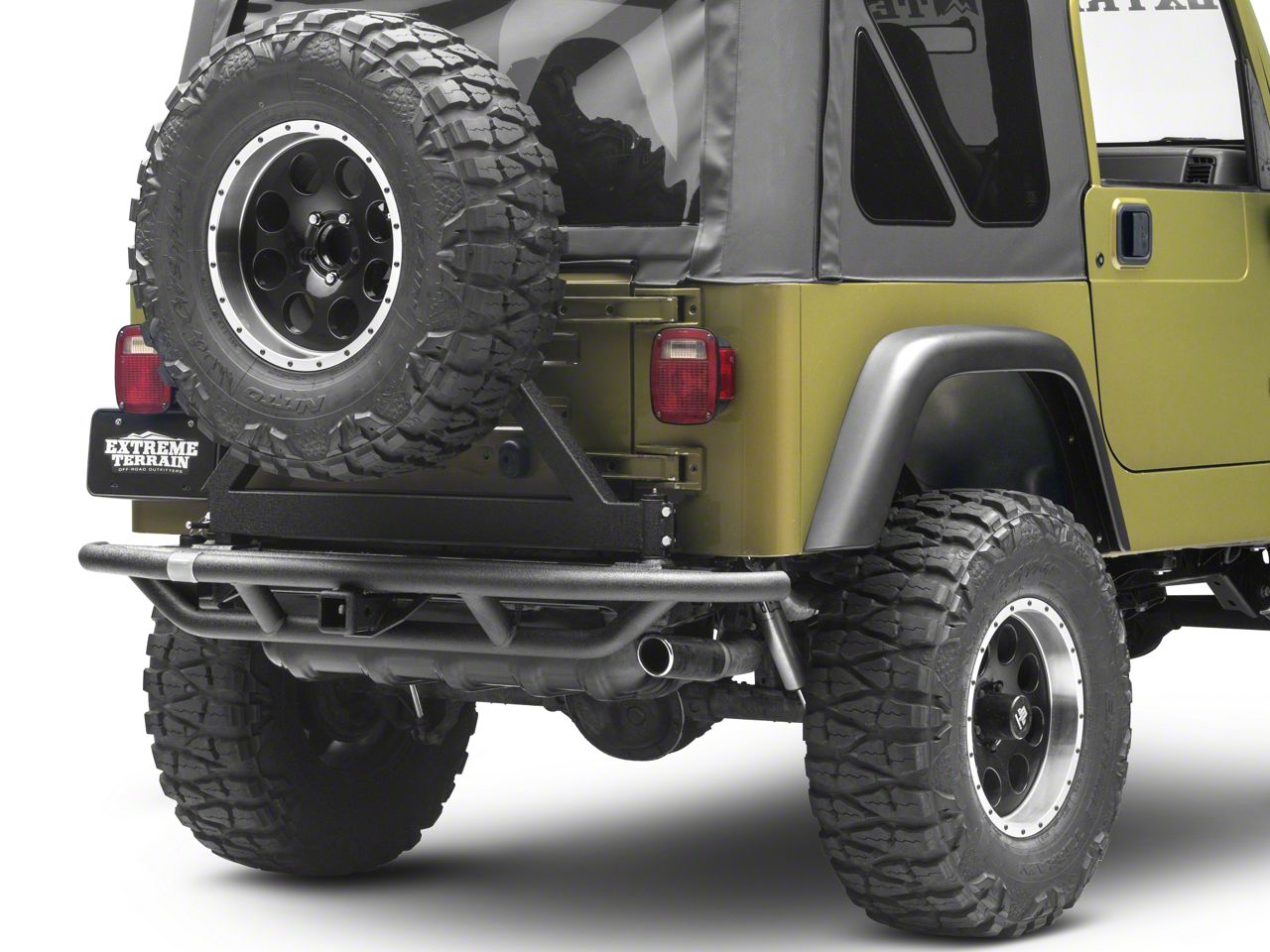 FREE SHIPPING! Bumper Construction. Smittybilt's SRC rear bumper with tire carrier was specifically designed to fit all 1987-2006 Wrangler models. This heavy du

www.extremeterrain.com
I'd like to add two jerry gas cans to the tire carrier. And perhaps two jerry cans of water on the outside too. To free up as much cab space as possible. I'd be carrying 3 people and three backpacks. Not to mention the rear seat.
I need new offroad tires worse than this bumper set up. So I'm trying to make this Shittybilt bumper system work.
1) My question is - what is the best "gas" metal jerry can holder that will work with this tire carrier? And how do they attach? I've seen the Smittybilt jerry can holders. But it doesn't say whether they fit the SRC tire carrier and/or how they fit. Are there other brands of jerry can holders that will work better? Anyone ever use the EU jerry cans with holders? The holders often times come free. Just wondering if those will fit this tire carrier?

2) What's the best way to attach two additional "water" jerry cans to the outside (talking the plastic USGI ones - meant for water)? Front quarter panels? Roof rack (not that I want to do this)? Additional holders on the tire carrier? Just say screw it and put them in the back (not sure they'll fit with 3 people, rear seat and three backpacks)?

3) Start over with a completely different set of bumpers and tire carrier? I am partial to the tubular design. I could be talked into Dirtworx. But I really don't have the money for it. And again, I'm partial to the tubular design vs the squared bumpers. And it would be a price difference of less than $400 vs near a grand.

4) Lastly, this tire carrier holds the tire fairly high up. Obscuring your rear view. So another option I am considering is just using the rear bumper without the tire carrier and getting something like the OR FAB(?) tailgate tire carrier. But I'm not sure you can carry jerry cans on that one too. This would be my last option. As it's fairly expensive.