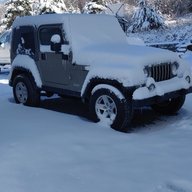 Joined

Aug 30, 2019
Messages

219
Location
I bought a Bestop Supertop NX squareback about two weeks ago directly from Bestop and it's finally installed.

When placing the order I saw the option to buy the top installed. Now I'm not an idiot but I am alone out here in the middle of nowhere, and on top of that I'm not a spring chicken anymore, so I called Bestop to find out what "installed" involves. They farm the installation out to a company called Buy It Installed who in turn has a "master craftsman" come to your house and do the installation - like Safelite. My wife called it a no-brainer; at $1549 for the top and another $108 tax, the additional $149 doesn't seem all that excessive. So I opted in.

Buy It Installed customer service is actually very good. They answer emails, they call right back - nothing at all to complain about. They gave me the contact number for my installer and I called him Monday morning and he came out Tuesday afternoon. Surprising as we're in a remote area of northern Pennsylvania and I was expecting maybe two weeks at the soonest, at which point I would have cancelled and just installed it myself (I was skeptical). But he showed up right when he said he would and he was finished in about two hours (although I took it out for a shakedown cruise today and there were just a few minor details he missed that I ironed out). If anyone is in my situation, with no one to help you out, and you don't mind the $149 I would recommend going this route.

The top itself - it's nice. Not overwhelming but nice. It looks very new and my Jeep is muddied up a bit so now I guess I have to wash it. I had a factory soft top on my old TJ and I think the OEM hardware is easier to screw with when taking the top off and putting it back up, but it could be that I'm just not used to this one yet. Also the twill is a noticeably heavier material so a little more awkward. It has the goofy cartoon logo but I can live with that.

Anyway, I haven't seen "buy it installed" mentioned here before so I thought I'd chime in with my experience.