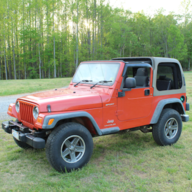 Diesel Wrangler Guy
Supporting Member
Joined

Aug 1, 2018
Messages

1,293
Location
This is the final incarnation of this build . . . hopefully. I'm so ready to be done. So super fast back story, started my swap in 2018 with a Kubota V2403, got it running, had to swap transmission, went from an AW4 to a Ford 6r80. To try to solve issues with with the 30% overdrive on the early model AW4. The 6r80 worked great but the torque converter was too tight. While waiting for a custom torque converter I found out about possible inspection changes in my county, which last I heard they are still debating. So out with the Kubota.
So I decided to use another diesel engine, a Volkswagen ALH TDI which I had for another project in my TJ Wrangler because it has a working OBDII port however it's giving me all kinds of fitment issues.
So first it was a Kubota V2403 turbo diesel then a Volkswagen ALH TDI. THEN I came across a deal that was too good to pass up. A 2004 VW Beetle with a BEW TDI motor. So I'm now going to run this BEW TDI in my RHD TJ Wrangler, with right around 252ft/lbs of torque, I also already have the accessory relocation bracket which will lift all the accessories up about 5" which should give me the clearance I need for my swap.
This 2004 TDI Beetle popped up really close to me, runs great with only 188K miles and the timing belt was changed at 182K. The engine starts quickly, runs very well and doesn't smoke at all. I got it so cheap because there is a very weird issues with the either the automatic transmission shifter or the automatic transmission itself. Either way I have a running TDI with a full parts car.
I just need to clean up my shop so I can get the Beetle in and pull the engine out, which I believe I have to pull the transmission with it. Trying to have everything organized so I can try immediately dropping it into my TJ Wrangler as soon as I get it removed from the Beetle.
So the current build will be:
2004 BEW TDI with 140hp and 252ft/lbs
Ford 6r80 6-speed automatic
NP231
Dana 30 Front and Dana 44 LSD in the rear
235/85r16 on Liberty wheels with a 1.25" Body Lift
I'm looking to have this swap done before the end of the year. Thankfully the transmission, transfer case and driveshafts are already in place and mounted. I just need to fit the engine and make motor mounts for this entire setup. Hopefully 3rd time is the charm on this build, I really want to move onto building other things at this point but I need this build done as well.
Here is the video if you want to watch:
Thanks
Grant
Last edited: