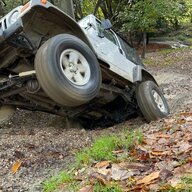 Joined

Dec 30, 2020
Messages

968
Location
PLEASE LEAVE THIS THREAD IN THE UK FORUM IT SPECIFICALLY RELATES TO A PRODUCT FOR SALE IN THE UK

I recently bought a Teraflex RHD steering box skid from Jeepey.com. when it was delivered I saw it was not the same as the picture on the Teraflex or Jeepey.com websites and I could not see how it could fit as per the instructions. I spoke to Jeepey.com today and it seems this is a known issue, for some reason known only to some complete moron at Teraflex they ship the RHD skid without the bracket that allows the skid to be attached to the lower bolt which attaches the steering box. This turns the skid into a useless 2kg lump of steel. The technical guy at Jeepey.com says it is a known issue but Teraflex have just ignored it when they have raised it. Jeepey.com tell me when they have fitted them they have had to fabricate brackets to make the usable. Jeepey.com have been very reasonable and are letting me return the item at no cost to me and have taken the part down off their website now.

I STRONGLY SUGGEST THAT YOU DO NOT BUY A TERAFLEX RHD STEERING BOX SKID FROM ANY OTHER SELLER IN THE UK UNLESS YOU CONFIRM IT IS COMPLETE.