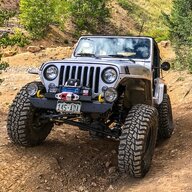 Joined

May 18, 2020
Messages

132
Location
I know the issue of brake lights staying on when your foot is taken off the brake pedal has been discussed before. In fact, the threads on here discussing this is what I used to learn how to reset the self adjusting plunger to try and eliminate the issue. However, I have done this a couple times with success, but eventually the problem returns. I have noticed that if I use my hand to check for play in the brake pedal, I seem to have a slight bit of play in the pedal in that I can pull it back slightly (away from the firewall) with very little effort. Only about 1/8" to 1/4", but it definitely moves.
As far as I can tell, when I reset the switch plunger, it works fine until I inadvertently catch my foot on the back of the brake pedal (I actually seem to do this quite frequently when exiting the Jeep). When this happens, the next time I hit the brakes the lights stay on until I either pull the brake pedal out that 1/8" to 1/4" or reset the plunger again.
So, I'm wondering if this slight play in the pedal is normal or if my brake booster may have an issue with the spring or something else that is keeping my brake pedal from returning to full out.
Not sure if I should replace the switch, the booster, or both, or just try to keep my big ol' clown feet from getting caught on the back of the brake pedal.
Hoping someone has the answer...@mrblaine