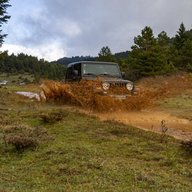 TJ Enthusiast
Supporting Member
Joined

Dec 23, 2019
Messages

809
Location
Hey,

Today I did a test. I was going downhill, I put the manual transmission on neutral and cruised in order to check some vibrations.

I was pushing the brakes (neither very lightly nor enough to stop the vehicle). I did this multiply times. I has some vibrations in my steering wheel, when pushing the brake pedal. My uncle told me that this should be EDIT: warped rotors.

Is this correct? Is there any test I can do?

If they need to be replaced any suggestions?
Last edited: