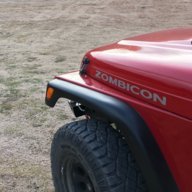 zombicon
Supporting Member
I went to 3 parts stores today looking for an input seal and gasket for my TJ(ax-15). I know I have purchased these at the parts stores before. None of the workers in all three stores had any idea what I was talking about, nor was it in their computers. As far as they were concerned, I was crazy, and there was no such part. Not one person offered to help find them for me. If it is not in their computer, then you are out of luck...

But as luck would have it, I have a computer myself. I am going to order one and probably not be charged tax or shipping. well maybe shipping, but I bet the whole package will be cheaper than at the brick and mortar. For stores worried about being passed over by online purchases, they don't really offer any customer service. All three stores told me they couldn't help me, and left it at that.

It sure isn't like the good old days. The guys at the parts stores have no idea about working on cars. That is just their job, and all they have to do is look it up. If they can't find it, they are done.

Well if I have to look it up, there is no sense in me going back to purchase it there, especially if it gets delivered to my door.

I will be sad to see them go, but honestly I get better customer service with the online companies. I won't miss them too much.