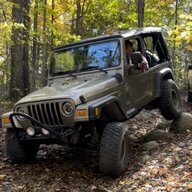 Joined

Nov 7, 2019
Messages

424
Location
Yesterday my brother and I took both my jeeps to a jeep show about an hour and a half away to find potential buyers for it and on the way his driver side wheel blew off. Luckily it got trapped in the wheel well and didn't fly down the road. When we stopped to check what had happened, we saw that all the lug nuts had flown off and one of the studs was broken.

1. Is it okay for him to drive the TJ home with 4/5 studs?

2. He used an impact gun to put the wheels on two days before. Could the reason the stud broke be because it was too tight? Or maybe too loose?