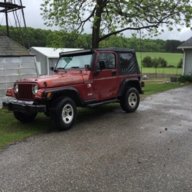 Joined

Jun 10, 2019
Messages

6
Location
Question for all.

To start with I am new to this at 50 and am looking for meaningful input. I recently bought a 98 TJ with a 4 cyl 5 speed. It is a riot but as most of you know gutless. This winter I am going to tear it down and do some mods and am now stocking the parts to do them. It is my daily driver for the summer and will be going back to my truck for winter to save the frame and body which is rust free (something almost unheard of in Northern Michigan). It will be a daily driver with some mild to medium off roading (two tracking, some hills, sand dunes and muddling). This is a budget build.

So far I have bought a 5.3 l Vortec and a line on a 4l60e to pair it with. What I am asking is with this new motor what is a good lift set up for 2-4 inches. I have been looking at kits but there is no differentiation between the engine to lift. I figure the difference in weight between a 4 cyl and V8 has to be considerably different enough to warrant heavier shocks and springs. Am I correct? Input is greatly appreciated.

Budget being more than rough country and lower than Currie.