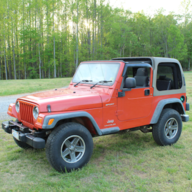 Diesel Wrangler Guy
Supporting Member
Joined

Aug 1, 2018
Messages

1,564
Location
Hey TJers,
This has been my 4 year, so far, journey to making my Right Hand Drive TJ Wrangler powered by a diesel engine. First off here is a picture of my 2006 Jeep Wrangler Right Hand Drive when I started back in 2018:
Here is the most recent picture of my TJ Wrangler:
Here is a quick update of my build to date:
Version 1 of the swap:
Kubota V2403 Mechanical Turbo diesel with an AW4 4-speed automatic
Version 2 of this swap:
Kubota V2403 Mechanical Turbo diesel with a Ford 6r80 6-speed automatic
Version 3 of this swap:
VW ALH TDI with Ford 6r80 6-speed automatic
Version 4 of this swap:
VW BEW TDI with Ford 6r80 6-speed automatic
Version 5 of this swap:
VW BEW TDI with AW4 4-speed automatic
I'll be updating each Version with post links for reference.
*ORIGINAL POST*
My TJ is pretty much bone stock, has just over 200K, 4.0L, 42RLE auto with a NP231-J transfer case. Has factory air conditioning that works, power steering, and cruise control which I added after I bought the Wrangler. Currently has a Dana 44 in the rear with a factory LSD on Goodyear Wrangler 235/75r15 tires which are great year round and dirt cheap.
I bought the Wrangler last summer, it was my first Wrangler and I love it, except for gas mileage. My daily driver is a 2006 Jeep Liberty CRD 2.8l turbo diesel, which gets fantastic mileage and has a ton of torque. The Wrangler gets around 13 ~ 17 mpg, my Liberty gets just above 30mph highway, consistently 28 ~ 30mpg. Here's a picture of my Liberty:
The transmission I will be using is an AW4 out of a Cherokee.
I'm going with the AW4 for multiple reasons. First I injured my left knee a few years ago, and while I love manual transmissions, an automatic makes off-roading so much more fun for me personally. Also has the added benefit that my kids prefer it as well, so they go on more wheeling adventures when we are in my automatic Wrangler.
Second I can just manual shift the AW4 by controlling two solenoids. Third I don't have to get an adapter from my NP231-J transfer case which is a huge cost savings as well. Really the main issue is there is no aftermarket transmission controller for the 42RLE transmission that is currently in my TJ, plus it has over 200K on it.
I'm going to be controlling the AW4 automatic transmission with an Arduino setup so hopefully later on I can program the Arduino to shift the AW4 automatically, but at the beginning it will just be a manual shift.
For transfer case I'll be using a rebuilt NP231-J that already has a SYE installed.
The Kubota V2403 Diesel engine should be perfect for this swap. I will have the horsepower of the 2.5L and way more torque than the 4.0!
I'm getting my adapter from Ken at
KubotaSwappers.com
. He is making me an adapter plate and accessory brackets and motor mounts so I can still have my air conditioning and Power Steering on my TJ.
In talking to Ken, he tells me I'll probably be closer to 110hp, and 300ish /lb once I dial in the turbo and the fuel pump on the V2403. The Kubota's from the factory were really detuned for reliability so they are running around 30% of their max fuel settings.
Now for the important bit! In talking with Ken from KubotaSwappers, from his experience in swapping these Kubota engines into XJ Cherokees, he said I should get into the mid 30s for MPG, depending on speed and gearing.
Right now I have 3.73 gears, which I'm going to leave alone until after I get the TJ running and see how it does. I might be doing a gear swap to 3.55s later on, not sure yet. My goal for my mileage will be 30 ~ 34mpg, effectively doubling my current MPG. However I'm really hoping to tune the turbo and fuel pump to get my closer to the 40mpg mark but really anything over 30mpg is going to be a win.
Why am I not lifting my Wrangler? I might in the future but I was my Wrangler back on the road asap!
Let me know what you think! I'm currently in the phase of getting all the parts I need, which has already been more than I was initially thinking. I will be posing updates each day I get new parts in or when I start getting the Wrangler torn done for the swap!
If you have any questions feel free to ask!
Thanks
Grant
Last edited: